published: Sunday 13 March 2016
modified: Sunday 13 March 2016
author: Hales
markup: textile

February element14 haul
Recently I made an order on element14. Some of the items I found were much cheaper than I expected.
Many of the parts were too cheap in my mind and I thought they were in error. I rang up element14 and asked. The staff member I talked to was extremely helpful and checked all of the items I flagged in my order and told me the prices were correct.
I didn't end up ordering as much as I could have (to the eternal complaint of my family!).
Big-arse capacitors
You know you're going well in life when a box of Nippon Chemi-con arrives at your doorstep: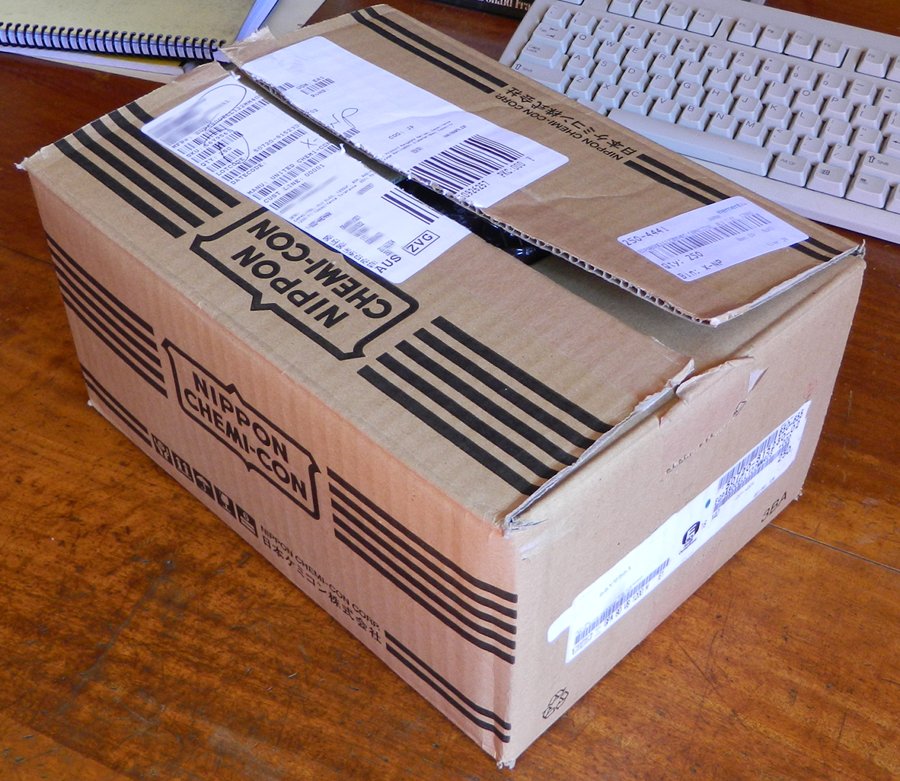 What is inside? 1200uF 80V electrolytics:
Cost then: $0.006 each (+GST)
Cost now: $5.40 each (+GST)
Eep. A thousand times the price.
If I recall correctly these parts were labelled as 'new' and were not actually yet in stock when I ordered them. I expect I paid a promotional price and unlike the majority of element14 parts these took a couple of months to arrive rather than a couple of days. You do not see me complaining :)
These caps are particularly useful for the motor drivers I have been prototyping for the last few years. 80V is a bit high of a rating for what I do, but otherwise they're perfect for replacing the mis-matched odd capacitors I have been pulling out of other appliances.
OLED

displays

I found some 20×4 character and 16×2 character OLED displays made by a company called 'Lumex' for less than a dollar each.

Big ones:

Small ones:

These are driven by a US2066 controller which supports a range of comms methods (parallel, UART, etc). I've only had a quick stab at trying to use them with no luck as of yet. Uni semester has just gotten busy for me and I'm unlikely to focus on them for a while.
The smaller screen now sells for about $90 and the larger for about $180. These may have been the original prices, however I suspect they were not selling, so the e14 site would have been discounting them slowly over time.
You can pick up two-line LCD character screens off eBay for a few dollars. Hobbyist communities have been making wiring diagrams and example code for these cheaper screens for years. I see little reason that people would want to pay 90 or 180 dollars for an OLED alternative.
I suspect that my purchase of them may have 'kicked' the discounts they had. They'll probably go back to being dead stock again unless someone with a very specific need for them buys one.
Buzzers
I picked up some simple two-terminal self-oscillating (DC) buzzers and some mystery four-pin ones. I've run out of buzzers after using them in some recent projects, plus they're fun and useful to have lying around.
The two terminal ones are not fancy and look completely different to their product picture:
Again I'm not complaining. I bought them for 0.004 cents each.
For 0.008 cents each I rounded up a box of some more interesting buzzers:
I was unable to find a pinout for these, so I cracked one open:
There is a single transistor and some discretes inside. I'm not quite sure yet if this design is self-oscillating or not, I've yet to find a way to drive them.
As per all of the previous items: the price has jumped significantly since I bought them.
Other cheap odds and ends:
A roll of 10,000 small self-adhesive labels. These are still going for less than a few cents (per roll) on the e14 site. I only ordered one of these, which may explain why the price has not jumped as much as everything else.
(TO-220 mosfet for scale)
Some TO-220 mosfets (1.5 milli-ohm) were also going cheaply. Like the capacitors at the beginning of this article these parts had a long lead time, but unlike the caps they arrived much earlier than expected.
I should have bought more than a couple of tubes since they were only $0.016 per fet. They now cost multiple dollars each.
Things that came at normal prices
Year ago I bought my original collection of small ceramics capacitors off eBay as an assorted pack. I found out (the hard way) that many of them were dud (or at least mislabelled) a little while ago when trying to make a small FM transmitter. The circuit did not oscillate unless held and squeezed in certain precise ways and I ended up buying some replacements from Jaycar (a brick and mortar store).
I now have a whole region of my drawers dedicated to the replacements I ordered, sorted by their most significant digits:
I had also been running out of small electrolytic capacitors for a while. I used to harvest all of my capacitors, but I've stopped collecting and processing as much dead electronics as I used to.
I had originally formed a list of the capacitor sizes and voltage ratings that I wanted to buy but I quickly threw that out the door. Pricing of parts of element14 follows the individual supply and demand of the parts in question. Often larger capacitors are cheaper than their smaller brethren and it is worth looking around. In the end I settled for a handful of capacitor sizes.
Now my caps box looks a little more populated:
The axially leaded caps at the top right were only a little more expensive than the other caps and I thought they would be a bit of fun.
Closing notes
Hopefully soon you will soon see projects on this blog using these parts :) Regardless, behind the scenes they are proving to be very useful.
It will be interesting to see if element14 discounts parts down to these levels again. I love the properly parametric search functionality on their website (take note RS components !) and I think I'll be sticking to e14 for many of my future orders, given how good my experience has been with them so far.
I'd like to know if anyone else has ever had similar experiences with electronics merchants before.
Please feel free to share your thoughts in the comments below.